---
Warm Vessels in Search of Sunset
Internal energies exist within every object and body; ones we create and ones we seek out. They flow, they move, constantly changing shape and turning into something else. Energies shift into artefacts of human expression, appearing as tools, sculptures, songs and talismans of information.
15 Oct - 15 Dec 2021
Jaffar Aly, Rebecca Bellantoni, Mandy Franca, Nour Jaouda, Adam & Zack Khalil, Emily Moore, Joshua Myszczynski, Issi Nanabeyin, Sena Tabea Nehme, Femi Oshodi, Benjamin Salmon and TaliaBle
---
TUTORIAL: 命运画
with Underground Flower
TUTORIAL is a self-paced learning exercise in making a statement for an unknown future. Here, art acts as a speculative potential, an affirmation of alternative and sustained states of coexisting.
OCTOBER - NOVEMBER 2020
ChillChill, Gondris Cavel, Kludde, Pure Ever, CorpseSimulacrum fka PrsntPrsnt, Stach Szumski, Underground Flower
Hosted by Bsmnt Gallery
Curated byMarian Luft, Gözde Filinta & Ronny Szillo
---
SPAGHETTI CLUB
with 650mah

Spaghetti Club is an after school club which challenges children to think about complex (occasionally impossible) problems and goofy nonsense in a fun and frenetic environment. The exhibition will present a varied selection of work the children have produced in the club.
7 MARCH - 4 May 2020
Spaghetti Club/Michael Crowe
---
RESIST SCIENCE FICTION

Dasha Loyko questions all versions of certainty and so-called 'truth' via the literary trope of the unreliable narrator. Visitors to this exhibition will get to see a staged interview, a fake museum display and a chanting wormhole.

SEP - OCT 2019

Dasha Loyko
---
NIGHT MARKET VOL 1
with Underground Flower

Challenging the defined boundaries imposed by mass branding, the bootleg commands a chorus of unauthorized voices which mutate around familiar and established characters and brand. Night Market v.1 presents a collection of such forms - illicit, janked up, unauthorized, and unmeasurably alluring.



APRIL - JUNE 2019

Youada, Jim Feng, Kiki Jiao, Tan Ray Tat, Ala Flora, Mizucat, Simon Hanselmann, Lawrence 'Raw Dog' Hubbard, Alex Rathbone, Castell Lanko, Twee Whistler, David Sayre

---
THE GENERATION OF CHOICE

Hosted at
Gern En Regalia
,
Ridgewood, New York
The cultural output and creative identity of Generation X in 1990s New York is reimagined by a group of American and British artists whose work provokes a romantic view of that period, including street culture, film, video games, and action figures. Hosted by Gern en Regalia.
NOVEMBER 2018 - JANUARY 2019
Steve Gee,Joseph McGehee, Mario Miro, Avery Noyes, Asmara Rabier,
Guy Oliver
---
RUMINATIONS OF THE MIDNIGHT STROLL

I too often forget which of my experiences are from dreams and which are from reality... Ruminations brings together works by international artists who explore the dynamics of desire and the imaginary through a variety of mediums and supports.
APRIL - AUGUST 2018
Miro Arva, Alyssa Davis, Nandi Loaf, Olga Polunin, Dominic Rabier and Ivy and Her Son
---
NOVEMBER - DECEMBER 2017
Joe Cool, Thomas Hamen, Aycesu Duran, Lara Joy Evans and Valentin Rillet
---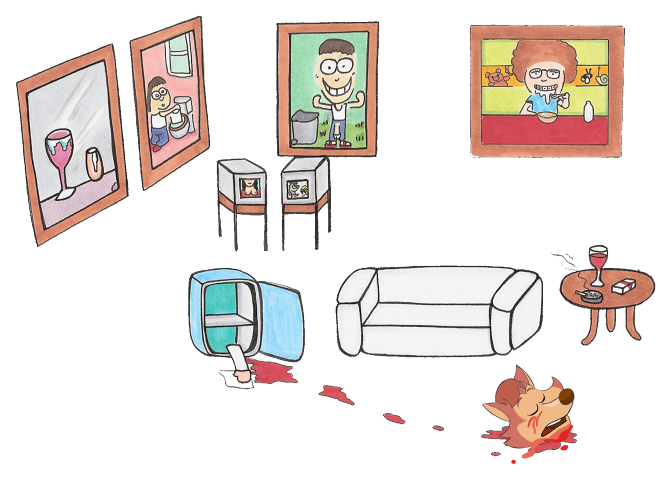 HOTEL 419

Hotel 419 depicts a journey inspired by the complex issues surrounding the definition of success.An array of student and well-established artists gathered to compliment a hotel room, the whole functioning as a single piece, forming a dialogue between generations.
DECEMBER 2016 - JANUARY 2017
David Blandy, Marie-Aimee Fattouche, Ed Fornieles, Madeleine Pledge and Lauren Williamson
---