In The House Of Babylon
as Part of Metroland Culture's Brent Biennial
21 July - 10 October 2022

Private View: 25th July 2022 6-9pm

Opening times: 21st July-10th October 2022
Saturdays: 12-6pm
Thurs, Fri and Sun:
by appointment
Book here


Harlesden High Street presents In The House of Babylon, a group exhibition reflecting on the cultural and aesthetic legacies of music in Harlesden. The exhibition was born of the desire to speak back to the creeping gentrification of what were previously predominantly black and working class areas in London. Featuring works by Mattia Guarnera-MacCarthy, Ocean Baulcombe-Toppin, Paulette Coke, Andre Morgan, Amanda Ali, Andrew Pierre Hart and Ruby Eve Dickson, Kayleigh De Sousa and Anna Sebastian.

Inspired in part by Harlesden High Street's neighbour, Hawkeye Records Store, an iconic music venue marking its 45th anniversary on the high street this year, the exhibition will take the site as a starting point to celebrate the history of Harlesden as a microcosm for Black music, and a space where various Afro-Caribbean diasporic communities have made home.

Located just around the corner from Harlesden High Street, Hawkeye comprises a record store and bakery, paralleling the gallery's own twinning with a bakery too. The exhibition transforms the gallery into a re-imagined record store from the perspectives of artists living and working in the borough. The two sites become entwined, and Harlesden High Street becomes the embodiment of the contemporary afterlives of Reggae and Black music more broadly in Harlesden, as a result of spaces like Hawkeye. The exhibition celebrates the ways in which music culture was and is a means for making home, and for finding community and connection across cultures and generations.


Main Exhibition
Amanda Ali
Ocean Loren-Balcombe Toppin
Paulette Coke
Ruby Eve Dickson
Kayleigh De Sousa
Andrew Pierre Hart
Andre Morgan
Mattia Guarnera-MacCarthy
Anna Sebastian


Notting Carnival Segment (27-29 Aug 2022 TBC)
Mandy El-Sayegh

A project taking part in Notting Hill Carnival
Full line up and further details to follow

Exhibition Images




Installation View




Andrew Pierre Hart
What a ting - dub poems of sonara and blacousti, 2022
Oil and oil bar on canvas
150cm x 150cm

In the Caribbean we have an ongoing comment on everyday events this 'social commentary' speaks of technology, the government, the police, local and national and international struggles, local social issues of the people.

They are spoken, commented and analysed on songs in Barbados it finds itself in Soca and Calypso and in reggae and dub in Jamaica. On reading David Austin's Dread Poetry and freedom the UK dub poets; poets who lament over Dub and other rhythms to speak of the ills of London and the Uk particularly in the 70s & 80s.

My imagined and invented deities of sound; Sonara and Blacousti protagonist in my works . Offer dub poems imagined in an album that you see in front of you , The cover is very direct in the same way that Dub poems and Carribean social commentary does not dance around and speaks directly to issues to make positive changes in the local, national and international communities.

Story how you relate to Brent-
Born & raised in Brent recently moved to West London to complete an MA-first encounter with art outside of school was a local community center the HUb in Gladstone park at 8, Shown in Willesden Gallery on 2 occasions.



Ruby Eve Dickson
Passion, 2022
Acrylic, hairspray, spraypaint and oil on canvas
150 x 150 cm

Lady saw is an artist I discovered as a child through listening to track with my aunt, cruising round Leicester in my youth together in the car, and on the beaches of Ocho Rios Jamaica during our holidays.

Lady Saw has also worked with Shabba Ranks on the song 'Want it tonight' an artist associated with Hawkeye records.




Mattia Guarnera-MacCarthy
Anga, 2022
Airbrush on canvas
150 x 150 cm

The painting uses a torso of Nigerian afro beats artist Kida Kudz to tell both his personal story of rags to riches, as well as to personify the experiences of the objectified and hyper-sexualised black male figure. The work derives from a recent close friendship which was formed which garnered an intrigue into his story as a musician and himself as a cultural figure.

Story how you relate to Brent : My university tutor Andrew Hart originates from Brent and after having had a very close relationship to him through out the year we often discussed the parallels of Brent and Peckham (were I'm from).




Anna Sebastian
Burning Spear, 2022
Oil on Canvas
150 x 150cm

The bass and rhythm of the album, its calm mellow structure, communicates an implicit regality in Burning Spears album. The sound evocative of night and heat, specific to the humidity of the Caribbean, and yet the beat connects to an Afro futurist sensibility. Its this that has attracted me to Burning spears album, that removes one from contemporary music into a question regarding whether a return to a 'motherland' is possible and what it means to thus create a new identity based on displacement- to which Burning Spear becomes a paternal figure. The bass, the repetition metaphorise the construction of a new structure of identity based on the past.
The regality of the music is complemented by the album cover, the man in military gear atop a white horse. Is he a saviour or is he king? The composition seemed both dramatic yet sincere. In respect of these feelings, I did not want to mess with the cover and adapt it too much. I just wanted to blow it up, have it large and proud.

I was born in Brent. I spent my early years in Wembley and lived near by for my childhood years. I have maintained connection to the area through family members who live across the area.



Ocean Loren-Balcombe Toppin
Rose Quartz No.12
15x15x20cm
Object

Story about the piece: Rose quartz for emitting. Charged with energies of home.

Story about how you relate to Brent: I have grown up in the Borough and now live and work here. It is place that I love




Kayleigh De Sousa
Sister Nancy, 2022
Pencil, Pastels and oil on wood
50 x 50cm

Story about the piece- A portrait homage to Sister Nancy and her prolific 1982 hit single 'Bam-Bam'. A personal interpretation of the album cover, I attempt to convey the upbeat energy of the song, working with the texture of the table in order to create visual rhythms and a synergy of movement. The artwork was created live in the Harlesden High Street exhibition space, with backdrop of the neighbourhood I grew up adding to a wealth of inspiration as I drew the portrait. With the sunny weekend weather and flow of people walking past the space and interacting with us, this energy is preserved within the art work itself.

Story of how you relate to Brent: Having been born and raised in Brent and more specifically Harlesden, as an artist this area is an intrinsic theme in my practice, reflected through the vibrant colour palette I choose within my Artworks. To me Harlesden is the pinnacle of music celebration and from day until night you can often hear a symphony of various sounds from reggae to dub, often played by the Caribbean community outside the shops front doorsteps. To me the strong cultural music representation has become embedded in my own identity and as a by product of this, my way of creating too.



Amanda Ali & Andre Morgan
The BBC (Black British Carribean) Television Association, 1974 - present
Raspberry PI on a Sony LCD screen
Video installation work where the television is programmed to british carribean content since 1975, including various comedy programmes, films, documentaries and starring Andre Morgan as your favourite announcer



Andre Morgan & Amanda Ali
Time is like a bullet, 2022
Card Caldendar with pen and pro markers



Paulette Coke
Reggae breeze at sunrise, 2022
150 x 150cm
Inspired by reggae singers Dr Alimantado, whom I have preformed with in the past & Frankie Paul. Both of these brilliant singers now reside in heaven


DUB INNA BABYLON


A follow up project to the initial exhibition, we presented three site specific works by Mandy El-Sayegh, Ruby Eve Dickson and Emmanuel Awuni





Skincare is site specific installation by Mandy El-Sayegh exploring the studio/street relation of her hyde works that will be displayed as an accumulating surface in the background of Notting Hill Carnival.
Whos walls is it anyway? Graffers deface, embolden, emblazon, fix or fight with the textures of the venue.

The skins were viewable during Notting Hill Carnival at 120 Talbot Road on 28th-29th of August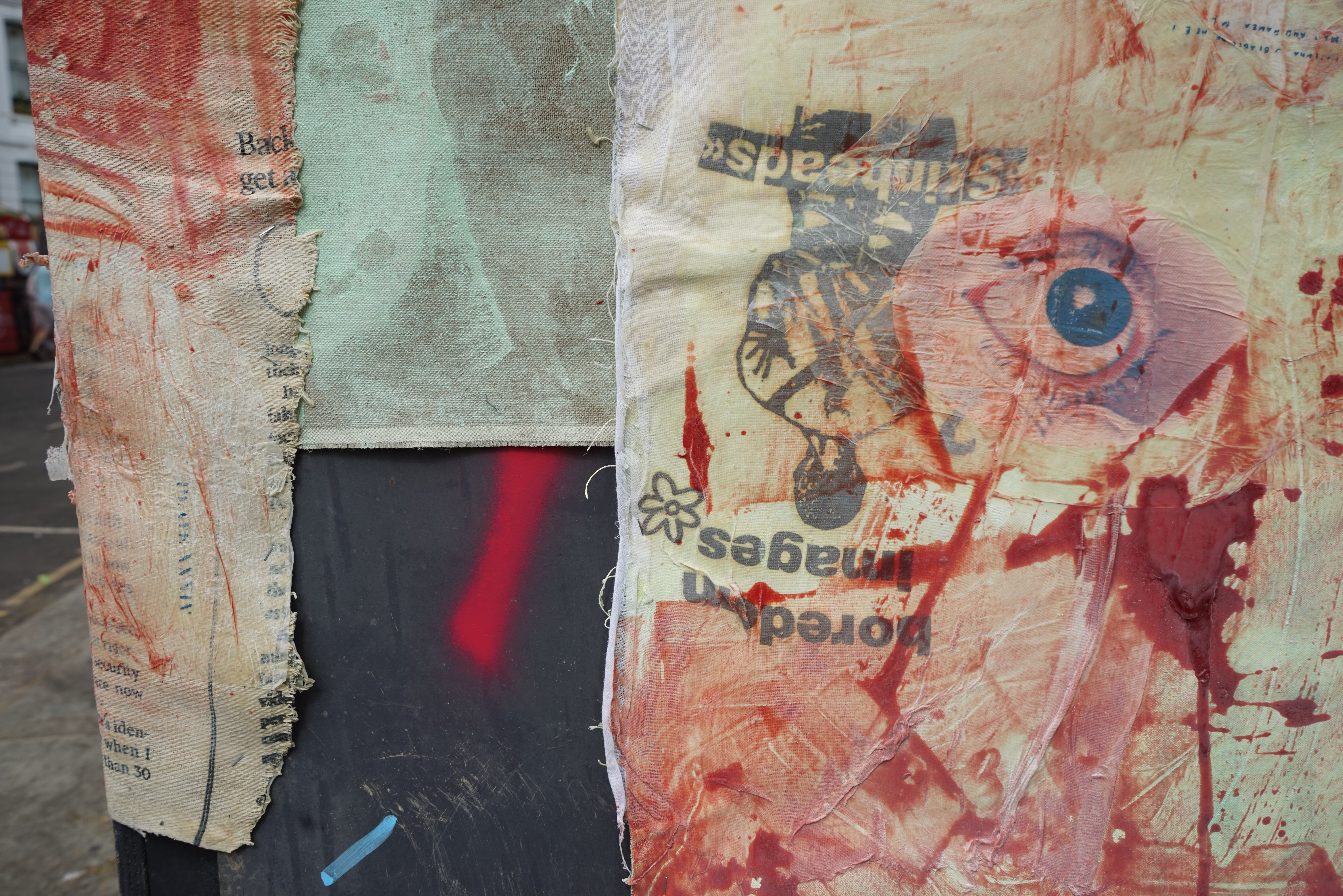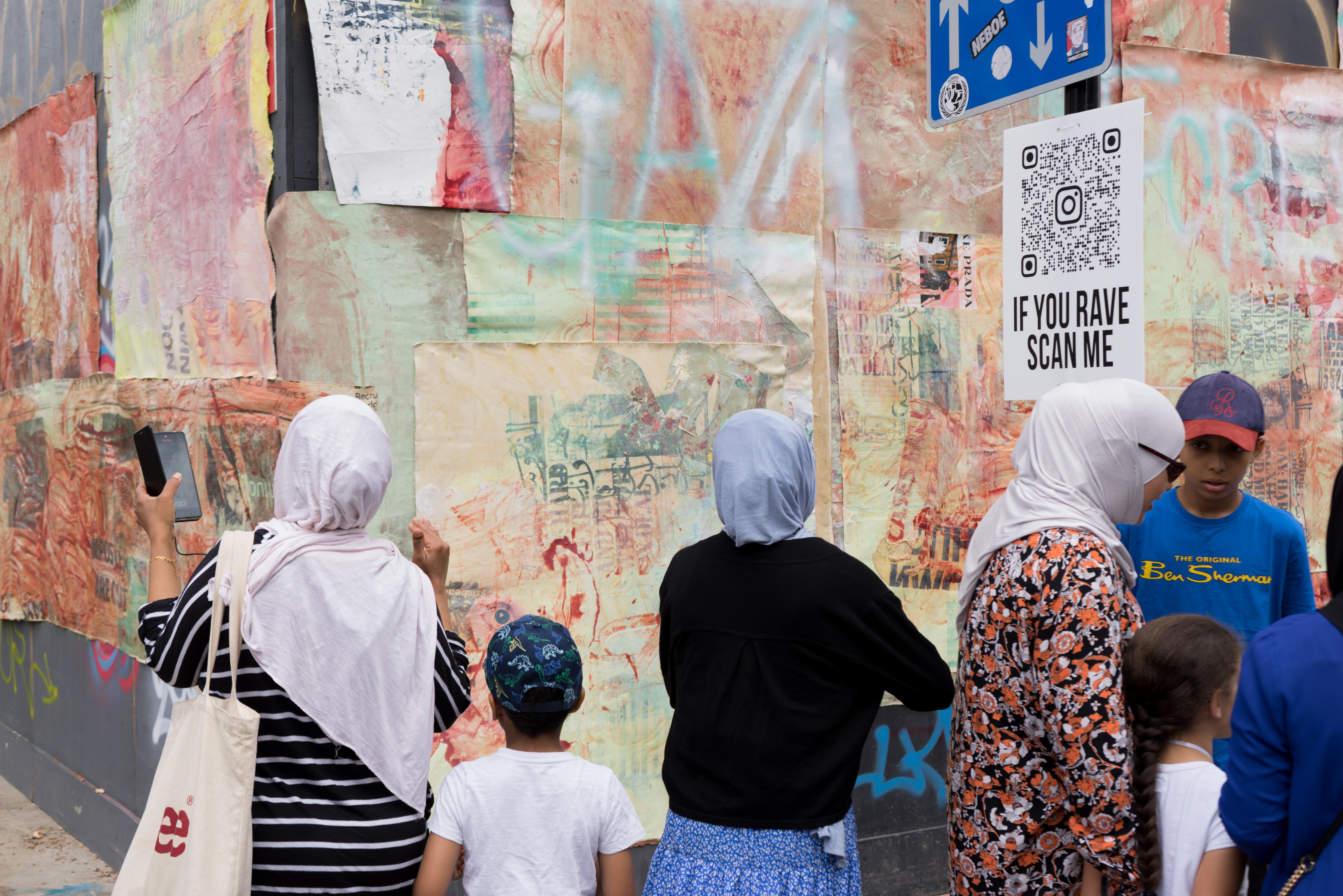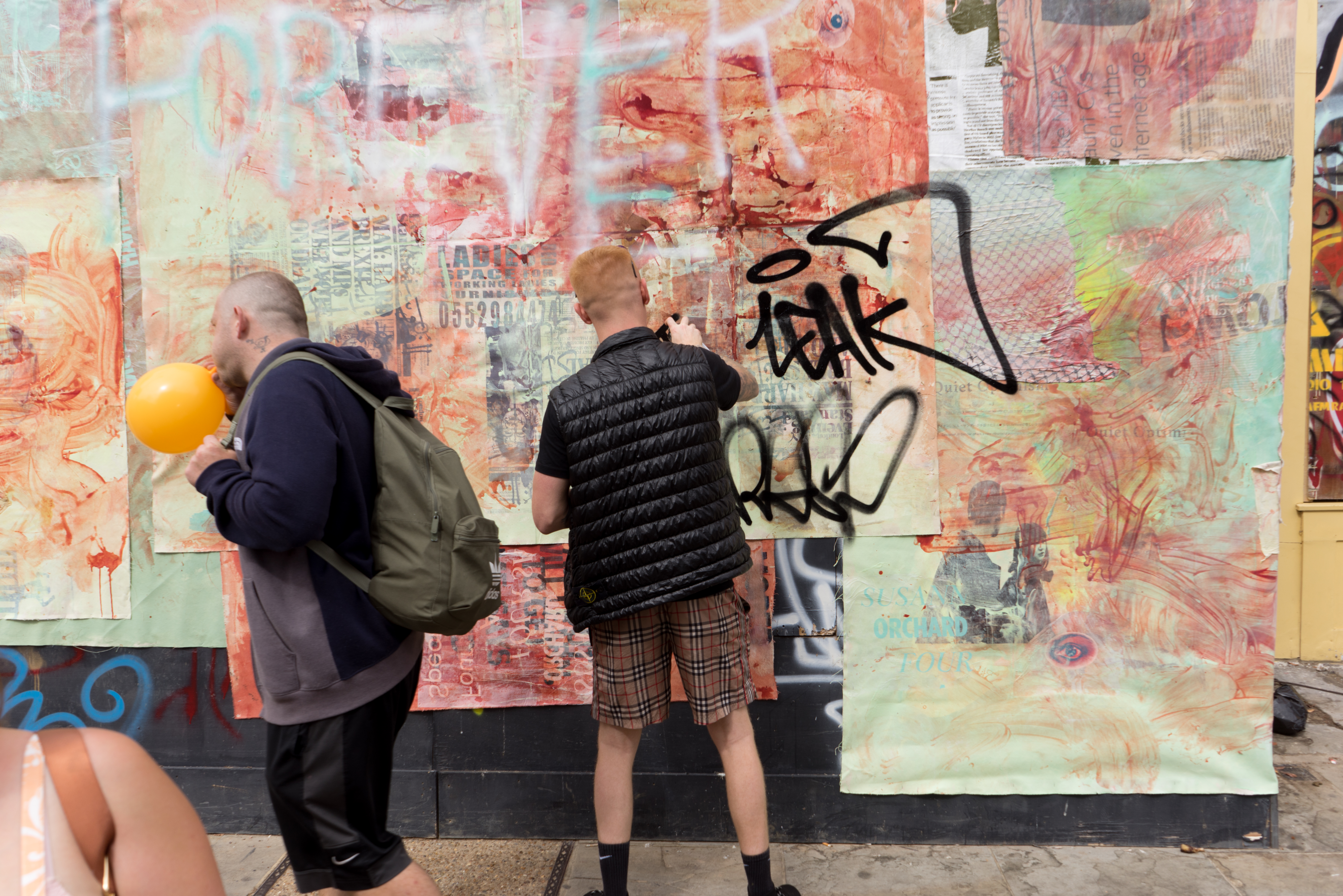 Ruby Eve Dickson - Reddie Installation
Bill posters on wooden structure intervened with the pubic's grafitti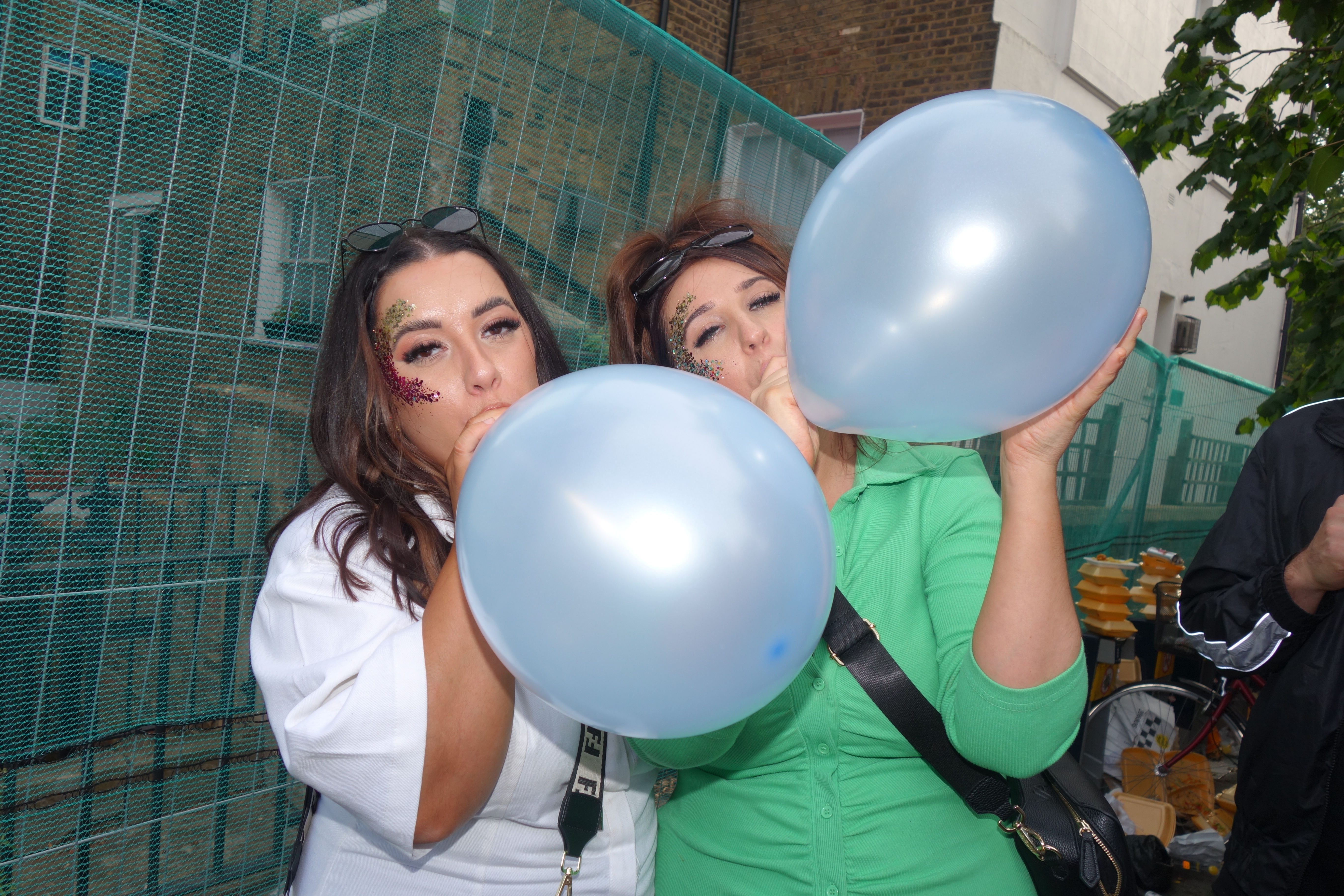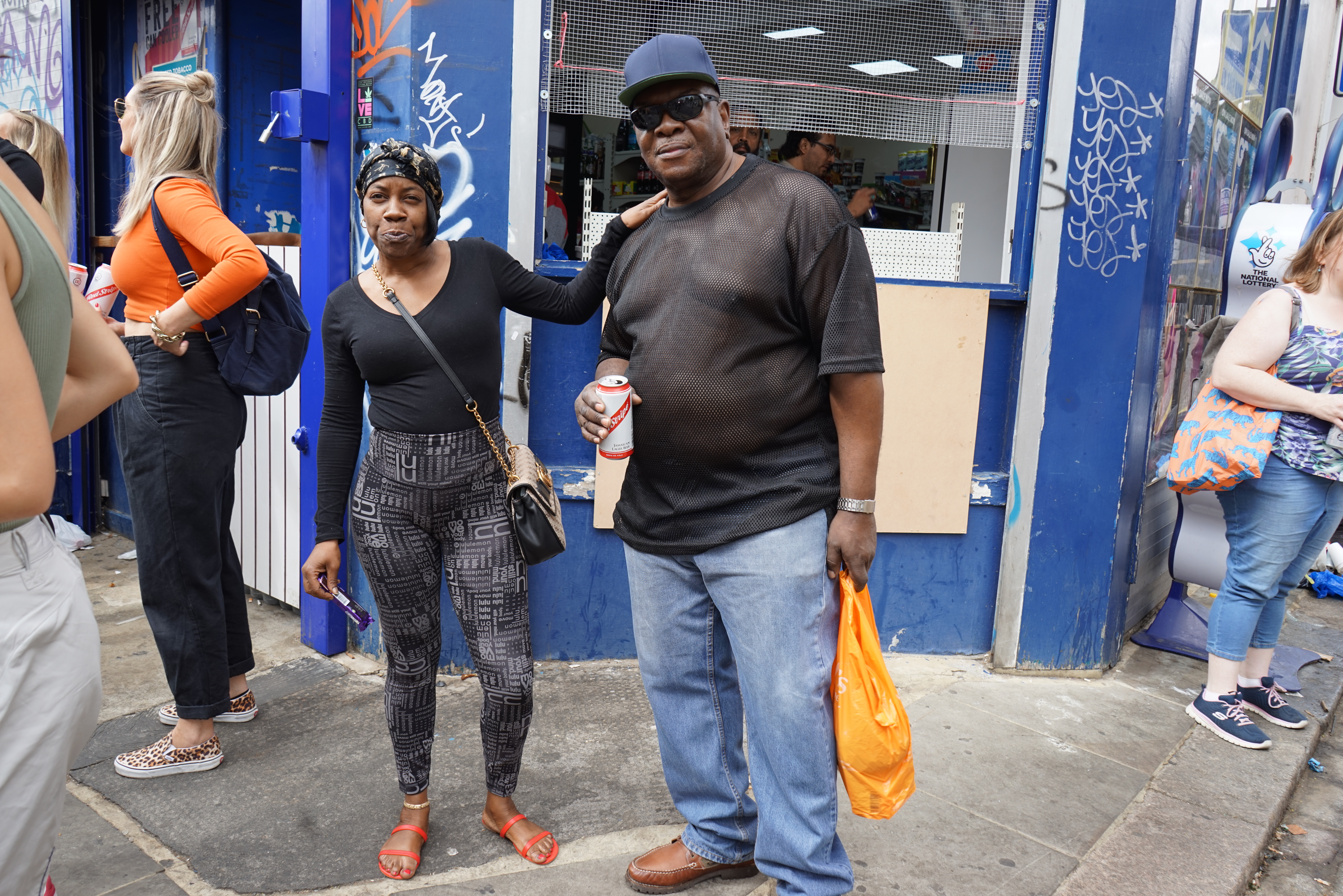 Selected Press
The Wire - Issue 463
Emergent Article
Artforum listing