---
Warm Vessels in Search of Sunset
Internal energies exist within every object and body; ones we create and ones we seek out. They flow, they move, constantly changing shape and turning into something else. Energies shift into artefacts of human expression, appearing as tools, sculptures, songs and talismans of information.
15 Oct - 15 Dec 2021
Jaffar Aly, Rebecca Bellantoni, Mandy Franca, Nour Jaouda, Adam & Zack Khalil, Emily Moore, Joshua Myszczynski, Issi Nanabeyin, Sena Tabea Nehme, Femi Oshodi, Benjamin Salmon and TaliaBle
---
EXTRATERRA
At once a lament and a proposition, Extraterra offers a home for hybrid identities: the alien, the chimeric, the diasporic.
13 Oct - 4 Nov 2021


Amir Dehgan
Ayesha Tan-Jones
Linda Nwachukwu
Nissa Nishikawa
Ocean Loren-Balcombe Toppin
Rieko Whitfield

---
NUMEN
with Underground Flower
NUMEN is a latin word indicating the 'spirit or divine power presiding over a thing or a place': the show explores moments of fleeting emotion and spirit enabled by a communal experience of beauty, adornment as a personal ritual, a quiet contemplation of numinous objects and contemporary artefacts.
10 July - 1 Aug 2021


Guia Bertorello
---
30 June - 21 July 2021

Yasmina Atta, Colombe D'Humieres, Miranda Keyes, Ewa Awe, Joseph Kadow, Malina Heinemann, Sam Langrigg, Jenkin van Zyl, Stefan Kartchev, Hamish Wirgman, Finlay Abbott Ellwood, Tom Hardwick-Allan, Marie Lueder, Joe Highton, Nina Porter and Arnaud Eubelen
---
30 April - 23 May 2021

Giovanni Vetere aka
Agnes Demande
---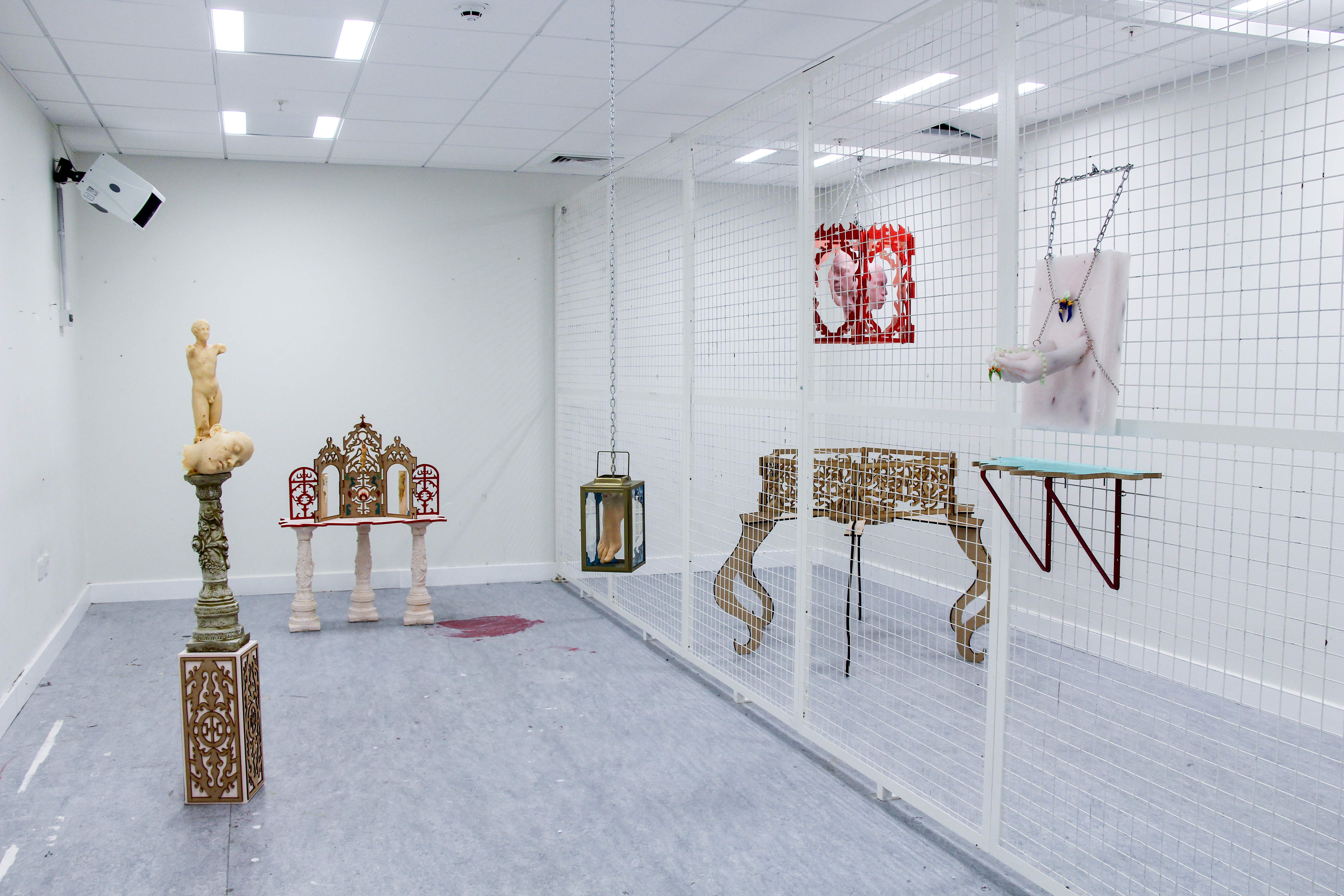 Porta Sancta
with Underground Flower
Working in the peripheral storage room of a former department store, Lim and Harris draw upon their individual research scholarships in Florence to renegotiate symbol and space.
JAN - MARCH 2021


Hannah Lim
Hugo Harris
---
TUTORIAL: 命运画
with Underground Flower
TUTORIAL is a self-paced learning exercise in making a statement for an unknown future. Here, art acts as a speculative potential, an affirmation of alternative and sustained states of coexisting.
OCTOBER - NOVEMBER 2020
ChillChill, Gondris Cavel, Kludde, Pure Ever, CorpseSimulacrum fka PrsntPrsnt, Stach Szumski, Underground Flower
Hosted by Bsmnt Gallery
Curated byMarian Luft, Gözde Filinta & Ronny Szillo
---
SPAGHETTI CLUB
with 650mah

Spaghetti Club is an after school club which challenges children to think about complex (occasionally impossible) problems and goofy nonsense in a fun and frenetic environment. The exhibition will present a varied selection of work the children have produced in the club.
---
SEMELPAROUS
with Julia Greenway
Joey Holder presents Semelparous, a site-specific installation. Through decimated research of the European Eels complex migration, reproduction, and biological makeup, Holder examines the irreplicable forces of the natural world.
FEBRUARY - MARCH 2020


Joey Holder
---
BAITBALL 01
with Like a Little Disaster
Baitball Vol. 1 is the first in a series of projects hosted by Like a Little Disaster. Artists were chosen to fit within a remit of collaboration and engagement with the aquatic surroundings of Polignano a Mare where the project took place place.
JANUARY - FEBRUARY 2020

Finn Carstens , Alessandro Fogo, Neckar Doll, Davide Dicorato', Marco Giordano, Nicola Gobbetto, Jaana-Kristiina Alakoski, Jens Settergren, Lorenzo Lunghi, Viola Morini, Eva
Vallani, Avery Noyes
---
NIGHT MARKET VOL 1

Challenging the defined boundaries imposed by mass branding, the bootleg commands a chorus of unauthorized voices which mutate around familiar and established characters and brand. Night Market v.1 presents a collection of such forms - illicit, janked up, unauthorized, and unmeasurably alluring.



APRIL - JUNE 2019

Youada, Jim Feng, Kiki Jiao, Tan Ray Tat, Ala Flora, Mizucat, Simon Hanselmann, Lawrence 'Raw Dog' Hubbard, Alex Rathbone, Castell Lanko, Twee Whistler, David Sayre


---
THE GENERATION OF CHOICE

The cultural output and creative identity of Generation X in 1990s New York is reimagined by a group of American and British artists whose work provokes a romantic view of that period, including street culture, film, video games, and action figures. Hosted by Gern en Regalia.
NOVEMBER 2018 - JANUARY 2019
Hosted at
Gern En Regalia
, New York
Steve Gee,Joseph McGehee, Mario Miro, Avery Noyes, Asmara Rabier,
Guy Oliver